Self-Publishing, Self-Promotion, and the Dunning-Kruger Effect

There's a whole lotta "self" going on in publishing, from the web-driven growth of self-publishing to the expectation of author self-promotion in traditional publishing.
Many publishing professionals — writers, agents, editors, critics, etc. — are trying to ride this wave with a sewn-on happy face, afraid that expressing skepticism equates to missing the boat or swimming against the tide.
Take a lesson from the real-world referents of these watery metaphors: some waves you ride, but some waves you build walls against.  Author self-publishing and self-promotion together constitute a destructive wave that merits a levee, not a longboard.
The Saruman Defense
When discussing many of these trends in publishing, people often make a fatalistic appeal to the irresistible power of the "revolution" while encouraging others to join it.  The argument is often framed in very inspiring and progressive-sounding language, but it still boils down to the inescapably Orwellian logic of "Surrender is Victory!"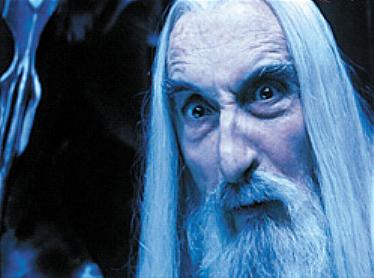 It is essentially the same argument Saruman made when trying to convince Gandalf to join with The Enemy.  Or, less literarily (and less charitably) it is the policy of Quisling in World War II.
Getting back to our wave metaphor, a similar argument would be that hurricanes are powerful, so we might as well destroy New Orleans.  When I hear people trying to ride this surge, it sounds to me like: "Real winners (like me!) learn to love the Storm; I wag my accusatory fingers at people who fail to survive it!  Don't be weak and backward like them!"
If only everyone cheering on this maelstrom would instead grab a shovel and start filling sandbags…
Now, before someone thinks that those who have made a successful go of self-publishing and self-promotion provide some sort of counter-evidence: I am not saying that it's impossible to ride a destructive wave.  I'm just saying that even if you manage to ride a destructive wave, it still dumps you into a soaked and scattered wasteland where once had been a thriving city.
What's the point of being named best surfer in a toxic disaster zone?
Tomorrow Could Be Another Day
Those who are scrambling to snap heels and salute this bad turn in publishing would argue that they are merely "facing reality."  But this self-promotion trend is only an accidental reality in publishing, an epiphenomenon floating on the surface of social currents that are swirling as people come to terms with very recent technological and economic developments.
We still have a choice how we come to terms with those developments.  Not only is the easy road of surrender not the only road, but the easy road does not address all of reality, merely the surface of it.
There is a deeper reality to contend with, hardwired into human psychology, which spells big trouble for an industry indulging a fad that rewards self-promoting enthusiasm over the professionally vetted value of product.  This deeper reality is that the writer is the last person who should be deciding whether and how much a book should be promoted for reading, because self-promoting enthusiasm and value are at odds with each other.
A real-world example: Margaret Mitchell was hesitant about showing Gone With The Wind to publishing professionals, only doing so after being specifically asked for a manuscript by an editor, turning him down, then handing it over on a rash impulse after getting angry about an overheard comment by a snarky co-worker.  And, even after Mitchell had submitted it, she tried to retract the submission.  The publishing professional to whom she had given it, however, recognized its merit and convinced her to have it published.
The rest is history, as they say, but let me remind you of it.  Gone With The Wind won the 1937 Pulitzer.  Its film adaptation won 10 Academy Awards.  It has inspired a sequel, an ironic alternate telling, and four musical stage plays, not to mention popular references too many to count.
The lesson here is that the best (and most profitable) writers are often not merely bad self-promoters.  Often they simply are not self-promoters at all.  That's why the traditional model of publishing included professional promoters, employed by the publisher, to encourage writers and reach readers.  In fact, traditional publishing still employs such promoters for their "lead titles."
Long story short: there is a right way to do things, a sustainable way to do things, and its vestiges are still embedded in the professional memory of the publishing biz.  Its professionals simply need to have faith in it again.
Gone With The Hot Air
If it is true that the best writers are often not self-promoters, the opposite is also true: the best self-promoters will tend to be bad writers.  And, there is clinical research to support this in the infamous Dunning-Kruger Effect.
For those not familiar with the research of David Dunning and Justin Kruger, the conclusions of their research basically boil down to two observations:
Those with the least ability in a particular skill tend to have an inflated estimation of their ability.
Those with the most ability in a particular skill tend to have a deflated estimation of their ability.
Now, apply these two observations to a hypothetical group of writers selected at random and take a guess who will be most enthusiastic about promoting his or her book.
Now guess into which category tomorrow's potential mega-blockbuster debut author like Mitchell would fall.
Now guess how much reader face-time that potential mega-blockbuster debut author is going to get with a million self-promoting hacks and mid-listers shoving their books in readers' faces.
Now guess what this means for the long-term sustainability of a business model based on author self-promotion while publishers focus marketing efforts on a tiny field of lead titles by already famous names.
At least, Dunning and Kruger found, when provided with evidence of their high position on the spectrum of performance, competent people are then able to accurately judge the excellence of their skills.  Like Mitchell, they can accept external assessments and stop hiding their light under a basket.
(This attentiveness to the world outside is, I believe, part of what makes competent people competent in the first place.  But, this is beside the point.)
Incompetent people, however, continue to overestimate themselves even when faced with concrete proof of their incompetence.  They cannot be deterred by facts, only by outright denial.
What this means for publishing is that bad writers, if not quarantined by a vigilant and selective class of insightful gate-keeping professionals, will simply keep multiplying and shoving their bad and mediocre books in the faces of a public which, as a consequence, will suffer ever-dwindling expectations of value and thus an ever-dwindling willingness to pay, until the whole industry becomes the literary equivalent of a food fight with everyone throwing and nobody eating.
And, nobody paying.
Profit is Profit, Right?
Some might object that, even assuming that science is real and my wet blanket analysis is sound, so long as some mediocre self-promoting writers are still making money, publishing as a whole can survive, right?
Wrong.  The problem is that moderate individual success does not always promote community success, because each transaction sets the stage for the next.  Community success is not merely the sum of individual successes, it is a complex dynamic of interactions wherein one person's success now can undercut another person's later.
Time spent reading a mediocre book that leaves the reader unenthusiastic about books for a while (or worse, convinces them that they could also easily become a published author) is time not spent reading a masterpiece that commands both respect and a higher price.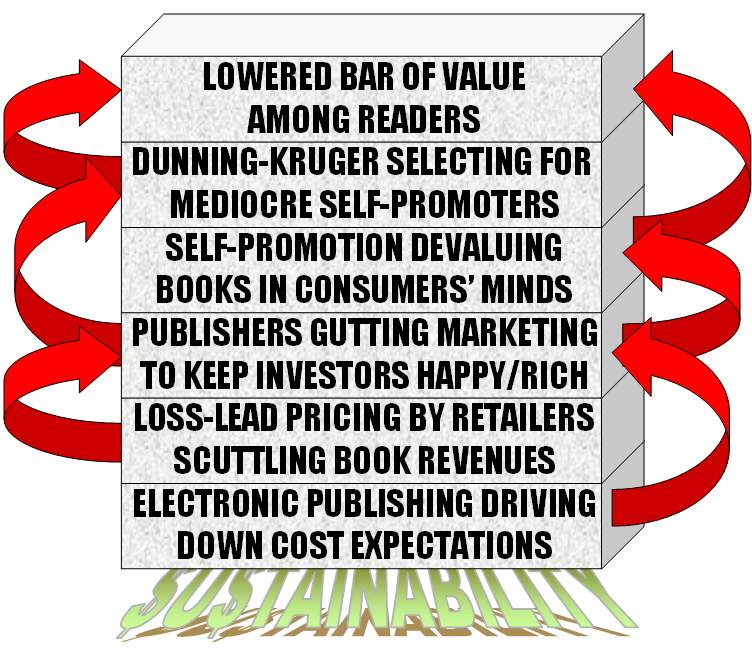 If a million eager self-promoters are each making 100 bucks in profit by drowning out a thousand literary wallflowers, that's nowhere near as healthy as an industry where a thousand literary wallflowers make 100 grand in profit because their writing is simply better in quality.
Yes, math nerds, those numbers add up the same … for a single business cycle.  The consumers' respect for the product, however, does not add up the same, and this has consequences for future cycles.  Esteem for the product drives consumers' willingness to pay over time, particularly when that product is an optional buy with much cheaper or free alternatives.
Just ask anyone who sells luxury purses.
If people think less of your product, they will be less willing to pay much for it.  If they think more of it, they'll pay more … even if it costs the same to put on the shelf.  But, unlike with luxury purses (which are often indistinguishable from their knock-offs) you can't fake literary quality.
Now factor in the additional psychological reality that people are less likely to believe self-promotion than they are promotion from someone other than the person being promoted.  Imagine showing someone a résumé with three letters of recommendation … all written by yourself.  It would be laughable.  The same applies to book promotion. There's a huge gulf in credibility between "my book is awesome!" and "we found this author whose book we think is awesome!"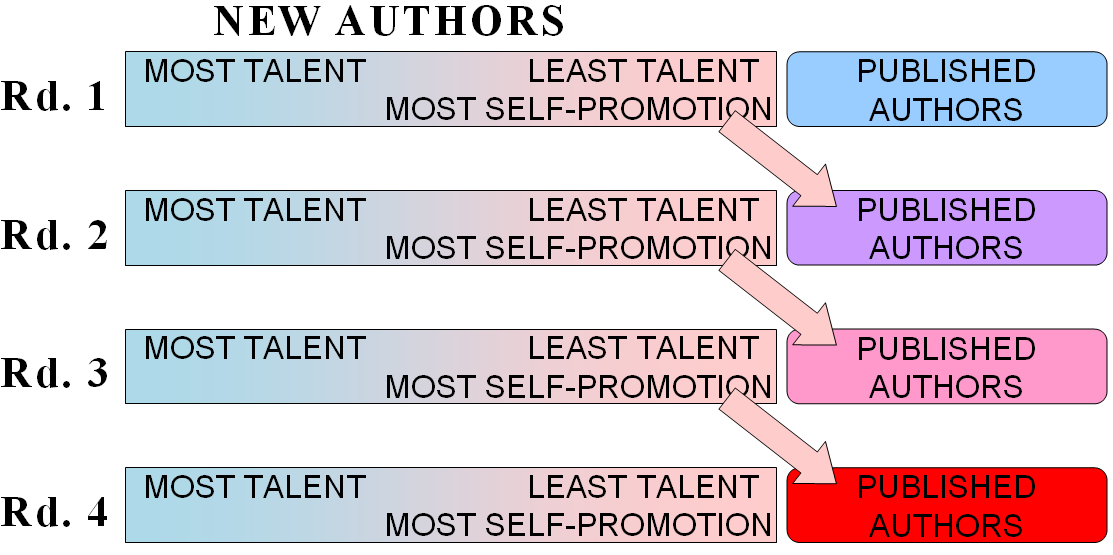 So self-promotion, even before factoring in the Dunning-Kruger effect, devalues the product in the mind of the consumer, helping suppress prices over time.
So, yes, publishers can abandon marketing to the most self-promoting authors on their lists, they can refuse to get together and crank up their professional standards to distinguish their common brand of "traditional publishing" from the anarchy of self-publishing, and the industry can stay afloat.
Temporarily.
But reader expectations of quality will dwindle, dragging prices down with them, which in turn cuts into vetting and marketing resources, in a vicious cycle that points the business bottom line straight toward zero.
_
* Unfortunately, even in choosing lead titles, publishers often select crappy writing that comes with the self-promotion inherent in a famous name. *cough* Glenn Beck *cough*  The fact that The Overton Window was a best-seller, however, doesn't change the fact that its substandard writing affected readers' estimation of fiction in general, and therefore what they feel they should pay for it … if anything.
You may also like...