Today I set out for DC's King Library to buy a few books in their used bookstore.
Now, I know this is generally a No-No, but the books I buy are almost always older and obscure academic books that are either out-of-print or would never blip my radar unless I stumbled across them at a library sale or used book store.  So, technically there's no replacement factor; the authors aren't being robbed of royalties they would otherwise receive.
But, unknown to me when I set out, the King Library store is only open on weekdays.  Undaunted, I decided to walk down the street toward the White House, a few blocks east of which is a Borders®.
Anecdote. A few years ago, when a different man inhabited the White House, I was walking past this Borders® when I overheard a tourist couple.  Actually I only overheard one of them: she said, "Wow, a book store two blocks from the White House?! That's strange."
After a pause, she said, "I didn't mean that the way it sounded."
Well, as I approached this particular Borders, I saw giant black and yellow signs in the windows: CLOSE-OUT SALE – EVERYTHING 40 TO 60 % OFF!
Sensing the smell of death, I mentally established a consumer appetite of $100.00 and swooped down on the shelves like a crow on a moose carcass. Let's go through what I got, and why.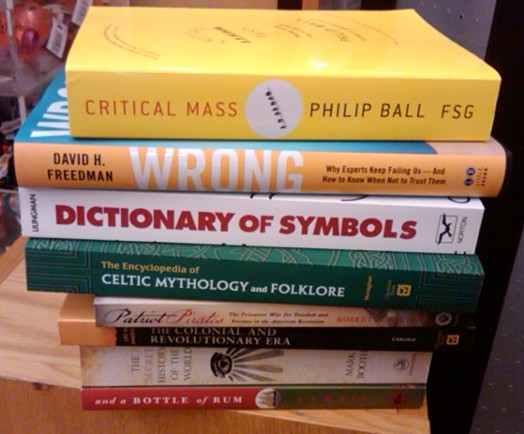 First, we have Critical Mass: How One Thing Leads to Another
by Philip Ball.  "Winner of the 2005 Aventis General Prize for Science Books" didn't hurt, but when I opened the book and saw the sheer breadth of the material, my INTP brain insisted. And the chart, good God, the charts!
Then comes Wrong: Why experts keep failing us — and how to know when not to trust them
by David H. Freedman.  I am always looking for contrarian arguments: even if they are wrong, they help clarify why I believe the correct theory is correct.  But, when I crack Freedman's book and read a critique of Surowiecki's The Wisdom of Crowds
, I'm sold.
Next come two reference books.  As anyone familiar with my Archaic Definitions must realize, I am a reference geek. So, when I see Dictionary of Symbols
and The Encyclopedia of Celtic Mythology and Folklore
I add them to the growing stack o' books. Oh, did I mention that my degree is in religion? So, yeah.
Lastly are four books that fit into the category of "background reading for The Observer Tales." Patriot Pirates: The Privateer War for Freedom and Fortune in the American Revolution
also helps fill out my maritime collection, as does And a Bottle of Rum: A History of the New World in Ten Cocktails
by a small stretch. The Colonial and Revolutionary Era (Life in America)
is a nice little reference on a variety of topics.
But, Mark Booth's The Secret History of the World
beat all. When I opened this book, the first thing I saw was a chart of esoteric heraldic beasts. Did Tom Sul write this? Let's head to check-out!
What didn't make the stack? History of the Incas
by Pedro Sarmiento De Gamboa, while intriguing, had to be placed back on the shelf to keep me under my self-imposed $100.00 limit.
The final tally? $95.87 Hell yes!
Even so, I was sad that this had to be part of the closure of a bricks-and-mortar store, because this is the way to buy books: picking them up, flipping through the pages, reading here and there, checking out the illustrations and cover blurbs.  Getting your hands into it like a farmer digging into his soil and mulch.
You may also like...