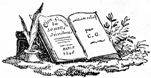 Last week, during my son Jack's visit, we spent a lot of time in bookstores.
I grudgingly admit to scouring the wastelands of Borders for carrion (as I've done before) but we also visited a few bookstores at historic sites like Gettysburg and Harper's Ferry.  Below is my latest book score, and my newest reading list:

The Illustrated Atlas of the Sea
– Ever since my uncle Cecil bought me an illustrated cultural atlas of the world when I was a wee lad, I have had a bit of an atlas fetish.  And an atlas of the sea? I think this selection took me all of a millisecond to decide.
An Intelligent Person's Guide to History
by John Vincent – A relatively succinct non-fiction work with a broad scope and critical acclaim?  I can only attribute such a combination to a clever and novel perspective.  I really look forward to reading this.
A Museum of Early American Tools
by Eric Sloane, and Book of Old-Time Trades and Tools
by Anonymous – I bought this pair in Harper's Ferry, to use primarily as reference books for the Observer Tales.  The ratio of text to graphics in them is quite satisfying, and they would make great additions to the background material of any writer working with historical fiction or Early Modern fantasy.
Jewish Pirates of the Caribbean
by Edward Kritzler – I am almost embarrassed to admit how many books on pirates are in my library.  (Still a small percentage, considering the total number of books.)  My friends have even commented on what a small role pirates play in the Observer Tales, even though the setting offers a perfect opportunity to indulge myself.
And, considering that the Marashid of the Observer Tales are based roughly on Judeo-Canaanite-Islamic culture, how could I pass up on a book called Jewish Pirates of the Caribbean? The subtitle, "How a Generation of Swashbuckling Jews Carved Out an Empire in the New World in Their Quest for Treasure, Religious Freedom — and Revenge," was an absolute clincher.  Into the basket it went.
The Book of the Dun Cow
by Walter Wangerin Jr. – Winner of the National Book Award.  Is that not enough?  Wangerin has woven together a variety of myths into a single fantasy on the perennial puzzle of the nature of evil. Every haul of paperbound booty should contain at least one piece of fiction, and this one seems more than adequate.
You may also like...