Short stories and serialized fiction are not the only creative endeavors available.  Being somewhat unimpressed with WMATA's half-hearted "Rush+" program to improve Metro service, I dusted off my old idea for a Beltway Line.
My take is that much of the crowding downtown is due to Metro riders having no way to go around the downtown hub area.  For example if you live in Silver Spring and want to Metro to Bethesda, just a stone's throw to the east, you have to go all the way through Chinatown first.  Several proposed updates to the Metro, including the Purple Line and the separated Blue Line, are intended to provide riders alternatives to this in-and-out approach. 
The DC Beltway already touches (or comes close to) the ends of all the existing lines, and has ample room for a new Metro line encircling the entire area, an excellent place to park your car, hop a train, and enjoy the city.  Add the Purple Line extending westward through McLean, a more farflung Blue Line than is typically proposed, and a Gold Line serving the deprived middle Virginia area, and you have the basics of an optimized Metro plan for the 21st Century.  I also propose extending the lines, in the spirit of the Silver Line, to reach outlying commuter origins like Gaithersburg, Aspen Hill, Bowie, Waldorf, Fort Washington, Woodbridge, and Centreville as well as commuter destinations like Fort Meade, Six Flags America, Mount Vernon, and GMU.
I consulted Google Maps to identify likely sites for new stations based not only on areas that already attract commuters, but also taking geography and existing infrastructure into account.  For added clarity, the names of stations that serve only one line are colored to match that line.
CLICK IMAGE FOR FULL SIZE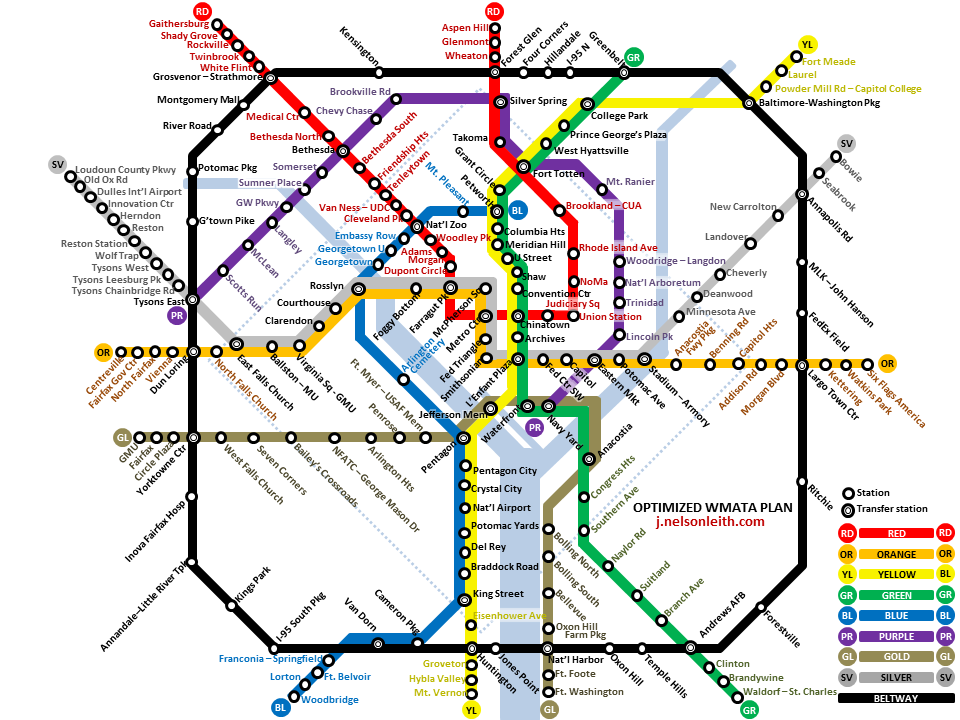 You may also like...