Time For New Metro Leadership in DC

After Washington, DC, is again ranked the worst city in the country for traffic (and doomed to get worse) and the DC Metro system trapped thousands of commuters underground, under a river, under sea level, in the dark for over two hours (read a horrifying first-hand account here) … it is clearly time for new leadership with a new vision at WMATA.
I have proposed an ambitious expansion of the Metro system that would go a long way in alleviating the metro area's traffic, but I believe more should be done. Traffic patterns in downtown DC need to be simplified, to include eliminating congestion-causing traffic decisions by creating walking malls in place of some side streets that contribute to confusing star-pattern intersections, and re-engineering the city's hallmark traffic circles so that they all operate according to a single, simple pattern.  To increase space for driving, street parking in many areas should be phased out by providing more off-street parking options, through both public projects and pro-parking tax incentives.
Surface road improvements—like extending Little Falls Parkway to connect with Clara Barton; constructing a second Key Bridge to more directly connect Whitehurst and Canal to the GW Parkway, while leaving the current Key Bridge for local Georgetown-Rosslyn traffic; and hiring a team of civil engineers to redesign the spaghetti pattern at the southwest corner of the Mall from the Kennedy Center to Maine Avenue, to include discouraging non-local traffic from using the Memorial Bridge—could have their greenspace costs offset by greenroofing and greenwalling incentives for property owners.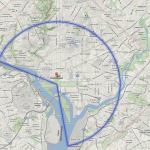 But the surest fire way not only to ease traffic but to generate revenue for all these changes would be to reform (not repeal!) the 1910 Height of Buildings Act to confine the height restrictions on residential buildings to a 3 or 3.5 mile radius of the Washington Monument. Beyond this limit, residential high-rises would increase the population density (and thus DC taxes) while reducing the need for long commutes to downtown employers.
Clicking the thumbnail on the right reveals a notional 3.5 mile zone of exclusion; you can imagine a somewhat smaller 3-mile zone that would protect DC's Mall and historic neighborhoods while opening up huge areas for normal urban development in Trans-Anacostia, Trans-Rock, and the north-east edge of the District, particularly near the newly expanded Petworth and Fort Totten stations both of which would connect to new or newly extended Metro lines. This growth would also reduce area rents by increasing supply, an economic boon for the District's working poor.
If we start with the firing of of WMATA's current management and the reform of the HBA as described above (with specific provisions that the increased revenues be allocated to traffic improvements), the next step would be to begin work with Virginia and Maryland on the Metro system expansion.  Parking structure and greenroofing/walling incentives could be incorporated into the HBA reform, eventually enabling the phase-out of space-devouring street parking and walking mall conversion of certain intersection-busting streets.  The study to redesign the southwest Mall and circle traffic patterns should take no longer than a year, after which construction could begin.  Key Bridge and Little Falls Parkway projects could operate in conjunction with Metro expansion, perhaps running the new Blue Line route under or over the surface road of the new Key Bridge, rather than via tunnel.
You may also like...