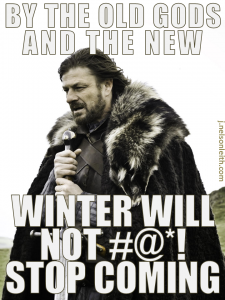 Here I am in the midst of another snow storm, days after the official start of spring, wondering if the Groundhog had a heart attack.
I'm not going to just revisit the Game of Thrones meme—although, it's intriguing how Ned Stark still dominates our thoughts about the series. (SPOILER ALERT: He gets his head chopped off at the end of the first season.) I also want to do a little reflection.
I have been working on a personal transformation blog entry for weeks, and I can't seem to finish it. Partly, because the transformation is ongoing. Partly, because I'm finding it hard to translate between my internal reality-modeling software and the meat-flap languages used here in the outside world. Every rewrite leaves me thinking, "No, that's not really what is going on."
I might end up deciding that it's inexpressible. Except through action.
I have also been struggling with a fiction series I've been reading, which has taken a disappointing turn into stifling gender politics. In short, it's selling its female villain short by treating her like a baby, in the interest of making her more sympathetic. In book one, the male villain ended strong, defiant, and shot in the face without trial. In book two, the male villain ended strong, defiant, and locked indefinitely in solitary confinement. In book three, the female villain ended weepy, confused, and an emotional funnel for other characters' sympathy and forgiveness.
That might seem like a pro-female dynamic, but it really makes women seem like perpetually unaccountable minors. And that's not how adults should be treated.
Anyhow, I guess that's all that's going on really, beyond a few side projects that should remain unexplained for now. Hope everyone stays warm. I'm sure spring is right around the corner.
You may also like...