Some whimsical ideas for NFL expansion teams

Sure, the NFL is in no danger of going broke. But, its viewership has been dipping lately, slumping a few percentage points each year. The folks running the league seem to have recognized the problem, and are trying … well .. things. Things like letting players who are not good enough for the regular league play in the so-called FXFL.
But, trying to sell your sawdust is no way to keep the mill running. The NFL's revenues are fan driven, so if there's a problem with the revenues, there's a problem with fan distribution. And fan distribution, in the highly geographical realm of grid-iron football, means team distribution.
So first, let's just drop four teams from among those with the least loyal fanbases. First up, the two crappiest recent expansion teams, the Jaguars and Panthers.
Yeah, I like all the cat-themed teams, too. There are what, four of them in the NFL?  (For the record, there are also five birds, two horses, and three sea-roving brutes.)
The NFL loves cats more than the internet does. And, hey, my high school team were the Panthers. But, let's be honest: the Jacksonville and Carolina teams are too close together, forcing them to compete for fans, and not close enough to the top of the power rankings. Let's give up that stretch of coastline to Atlanta and Miami.
And, there are two longstanding teams whose fans are perennial jumpers: the Bengals (another cat team) and Rams. Both of those cities have far more compelling baseball teams for fans to rally around.
To round out five, let's throw out the Redskins for stubbornly defending an indefensible mascot.
WHERE DO WE GO FROM THERE?
Picking cities for new teams is a bit trickier. Luckily, somebody has done some research into the popularity of various NFL teams, county-by-county. There are some clear open spaces, where fans are forced to side up with distant franchises. I've come up with a few half-serious ideas for expansion teams to fill the gaps in those maps: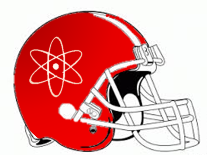 The Vegas Atomics
This team name is a reference to the mushroom clouds that were once visible from the city. It also provides its own ready-made and readily recognizable logo. The city is a natural venue, and this team could firm up the fan base in a state currently divided between the Broncos, Cowboys, and 49ers, not to mention giving Utahans, southern Idahoans, and eastern Oregonians some options.
Tourists are always going to visit Vegas for one reason or another. It's a favorite of conventioneers, gamblers, and diehard fans of has-been musicians. A professional football team would just be one more reason to visit the Silver State.
Hawai'i and Alaska are often treated like the step-siblings of the Lower 48. Hawai'i gets some love from college football, and has an on-again/off-again relationship with the AFC-NFC Pro Bowl. But, Alaska? Nada.
Well, let's have a team based in Hawai'i that also serves (and, when possible, plays in) Alaska. As a symbol of their shared oceanic environment, the logo of the team could be the iconic tail of a migrating whale.
Puerto Rico might not be a state, but they're still part of the United States and the NFL has some great players of PR ancestry, like Willie Colon and Victor Cruz. Plus, a little outreach to our neighbors to the south couldn't hurt, and a team based in San Juan could inspire fandom in the entire region.
So, let's give a Caribbean a try, and base an expansion team in Puerto Rico using a Taíno petroglyph spiral evocative of the tropical cyclones for which the team could be named.
Okay, Tennessee is in the Appalachians, but the Titans call Nashville their home and Nashville is well outside the hill country.
Despite a common cultural heritage, the 25 million people living in the vast Appalachian region often have to eat scraps from the tables of the South, Midwest, Mid-Atlantic, or Northeast. Let's give them a team, based in Roanoke, Virginia, and named for the trail-blazers who crossed the hills during the nation's early history.
Yes, Texas already has two NFL teams. And, yes, one of them is even redundantly called the Texans. But Texas has enough football fans to go around, and there's a huge swath of New Mexico Cowboy fans who might benefit from a closer team. So how about give West Texas something to whoop an' holler about?
Using the Native American Thunderbird as their mascot, the El Paso team could reach across the border to inspire fans in northern Mexico.
You may also like...