HBO is planning a miniseries about the guy who inspired Marshal Voight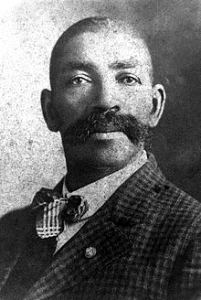 If there's such a sound as a man squee (maybe a roh-yeah?) I just made it. Actually, it did kinda sound like "roh-yeah!" Like the Kool-Aid man pumping out an extra rep at the gym.
Finally someone is making a miniseries about the life of Bass Reeves. Yeah, the frontier lawman who inspired my own Marshal Voight in High & Hard. Voight's more of a tragic character than Reeves, and his world is a flintlock fantasy, more 1680s than 1880s. But the core toughness and ethic of Reeves's character (and the literary rarity of a black frontier lawman) really dug into my brain while reading the biography Black Gun, Silver Star.
Now, that very book is being used as the basis for HBO's series. It's a case of "I can't believe it took us so long to do this."
Not because Reeves was African-American. Because Reeves was a hardcore bad-ass. The kind of guy whose life demands to be adapted for the screen. The kind of real-life action hero whose existence debunks the smarmy urbane attitude that action films are inherently unrealistic.
Over his career as a marshal, Reeves killed over a dozen fugitives and brought thousands to justice, some of them among the most dangerous men in the West, but was never himself wounded. He did have his hat and belt buckle shot off, though. Born into slavery, he later beat up his former master's son over a game of cards. When his own son was charged with murder, Reeves hunted him down himself and brought him to trial.
Pick up Black Gun, Silver Star and just read the first few pages. The story about the cowboys with the stuck horse will hook you on Reeves, a tough and intriguing character if ever there was one.
If anyone can do Reeves's story right, it's HBO. To say I'm pumped for this series would be an understatement.
You may also like...