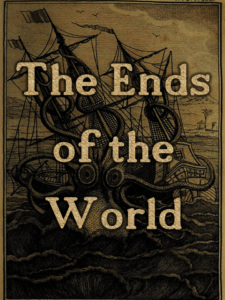 This is the home page for The Ends of the World, a gunpowder fantasy about a young, over-educated, under-employed professional from modern America who finds himself in a purgatory of pirates and sailing ships, where there is no aging and no disease. Only violence can send one off into the combined Heaven-and-Hell of our final reward.
Yet, to the skeptical mind of John Randolph, the rules of the afterlife prove to have nagging inconsistencies. What's really going on?
CHAPTERS ONE THROUGH TWENTY-THREE FREE TO READ. The final two chapters will be available in the published version.
Chapter 1, A Hanger and a Dragon – John Randolph dies while staring at his new shoes in a crosswalk and awakens confused and conscripted on a tropical beach. [2885 words]
Chapter 2, Not Proper at All – John makes friends with the centuries-old Juan de la Hoz and agrees to help a yellow-bearded pirate lord improve his guns. [2490 words]
Chapter 3, God's Engineering – John realizes something is very wrong with the World Facing and that his captain isn't being completely honest with him. [2640 words]
Chapter 4, Tedium – John meets Bob the Hippie, and maneuvers Captain Yellowbeard into an uneasy partnership. [2520 words]
Chapter 5, A Poeticism – Juan de la Hoz suffers the consequences of John's incessant questioning. [2800 words]
Chapter 6, This World Listens – John is brought into New Nassau as a prisoner, but he finds a new ally. [2705 words]
Chapter 7, The Mascots – Imprisoned by Yellowbeard in an ancient hotel, John is visited by a talking raven who offers him a new path. [2310 words]
Chapter 8, Everything Worth Having – John makes a run for it, but can he escape Danny, one of Yellowbeard's fiercest deputies? [2940 words]
Chapter 9, Delirious – John flees to a monastery with his two animals companions. But, when he gets there, who is waiting for him? [3015 words]
Chapter 10, The Sky Burial – John shoves a cutlass into Bob and finds himself answering to the abbot of a wilderness monastery. [2620 words]
Chapter 11, A Full Accounting – John meets Yellowbeard and Várion again. How will he escape their grasp? [2520 words]
Chapter 12, To Win Freedom – John, Sirhan, and Kinsey find a camp of escaped slaves. Will they make new allies, or new enemies? [2220 words]
Chapter 13, Words Matter – John is confronted with his naked reality. Several escaped slaves appear from the forest to join him. [2525 words]
Chapter 14, In and Out of the Story – John and his new allies are confronted by the abbot, who is leading Yellowbeard's men to drag them back to the slave plantations. [2300 words]
Chapter 15, Everything has its Cost – John and his allies are taken to the slave plantation of Señor Abarca-Abaroa. [2710 words]
Chapter 16, Arruinada – The party at Casa Relajada is on, but can John escape his pursuers? Q Bone, Yellowbeard, and Bob the Hippie? [2775 words]
Chapter 17, Ford and Stevenson – John finds busy work repairing Casa Relajada's water system. But, the Señor has other, more violent, plans for him. [3160 words]
Chapter 18, The House of the Midwife – The Señor sends John, Karím, and Ahmad to hunt for the pirates and slave hunters who attacked Casa Relajada. [2360 words]
Chapter 19, The Condition – The plot turns. John and his allies are ambushed in the rain forest, his plans are turned to dust, and death surrounds him. [2530 words]
Chapter 20, The Blood Star – At Yellowbeard's shore camp, on their way back to New Nassau, Várion and John discuss the violence of the World Facing. [2295  words]
Chapter 21, The Company Man – John is taken back to New Nassau, and learns that several other pirate lords are hunting him. But, there are worse surprises awaiting him. [2530 words]
Chapter 22, Bloodbath or Another Path – John is confronted by one of the company men, and comes to an understanding with Danny. [2385 words]
Chapter 23, Get to the Frontiers – The confrontation begins, between Yellowbeard and the other pirate lords, and an army from higher on the island. [2885 words]
Chapter 24 – The final battle, available upon publication.
Chapter 25 – The denouement, available upon publication.