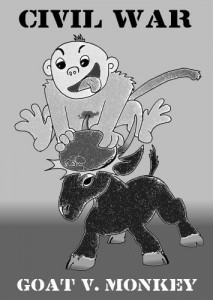 There is a certain strain of rock music that leans to the introspective and psychological; it tends to be dark, expressed either in the hypnotic, gothic shadows of metal or the lush angst of grunge and its offspring.
Not everything in the psyche is dark and angsty, however, and there are vicious intrapersonal conflicts in which one contender is the more playful side of the mind struggling against the serious and pained.
To represent this conflict musically, I chose a mash-up of calypso/soca and alternative rock. The cartoon at left, which I drew to symbolize the song, represents the mutual vulning of the agonistic psyche.
Hope you enjoy Civil War : Goat v. Monkey!
haha! listen up, this is a true story!
told in a soca-rock-ragga style,
_it's about a Goat and a Monkey that live in the same body,
__but they be fighting all the while.
like day & night, two faces inside of me
like dark & light, two people i've tried to be
one moment's peace: called a ceasefire — the still, how long?
one side or both breaks the truce and the war goes on
hard work and gloom turn the Goat on: the pain, the strain
but it makes it hard for the Monkey to play his game
goes knock the Goat from the mountain he's trying to climb
Goat sticks his horns in the Monkey to bleed him dry
Goat and Monkey, damn they're gonna fight inside my head
_they better stop this war before the one or both is dead
the Monkey's just wanting to play, but the Goat be working all day
_why the Goat always trying to kill the Monkey?
_why the Monkey always trying to kill the Goat?
somebody tell me, somebody tell me